The State of California, Department of Parks and Recreation (State Parks), Off-Highway Motor Vehicle Recreation (OHMVR) Division currently operates Carnegie State Vehicular Recreation Area (SVRA) off-highway motor vehicle park in Corral Hollow Canyon. Carnegie SVRA is located in southwest San In 2000 and 2004 the OHMVR Division tried two times to gain environmental (CEQA) approval to expand Carnegie SVRA into the Tesla park land. Through the two CEQA processes numerous significant direct, indirect and cumulative environmental impacts with the existing SVRA operation and the proposed Tesla expansion were identified which would require set aside mitigation and alternative non-OHV uses. OHMVR abandoned both EIR attempts.
The third time, OHMVR reframed the EIR process to get around the significant impacts of opening Tesla to OHV use and the need to mitigate with permanent set-aside land for any expansion as well as ongoing CSVRA operations. OHMVR is trying to applying a program EIR to fragment and defer impact analysis and the need to develop a plan based on known sensitive resources and foreseeable impacts. This third EIR process started in April 2012 and concluded in October 2016 with unanimous approval by the OHMVR Commission in spite of overwhelming scientific information and community opposition. Following approval by OHMVR, four petitions were filed challenging the EIR and General Plan approval, including by the County of Alameda. The case is still in litigation in Sacramento County Superior Court.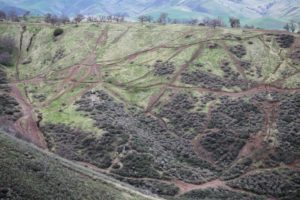 Although the three EIR processes identified that Tesla's extensive sensitive resources, OHMVR pushed through approval of the expansion. The Division states Tesla must be used for OHV use because it was bought with OHMVR Division funds and for the purpose of expanding Carnegie SVRA. Not only is this position inconsistent with all other land use law, it is not supported by the OHMVR Division's purchase and ongoing maintenance of residential parcels, buffers, and preserved land, and the OHMVR program statute providing a mechanism to designate areas for non-motorized recreation and as a sensitive area preserve. Further, contrary to the PRC, the OHMVR Division acquired land for SVRA expansion that is not suitable for OHV use and does not minimize the need for establishing sensitive areas because essentially all of Tesla Park should be designated as a natural and cultural sensitive area preserve. Had the OHMVR Division completed an acquisition EIR, the extent of the natural and cultural resources requiring protection would have been identified up-front and the property never selected or purchased for OHV use.
Return to main Tesla Park page.