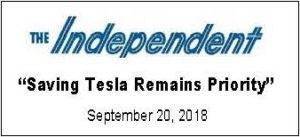 The Independent News serving Livermore, Pleasanton, Dublin and Sunol has endorsed preservation of Tesla Park.
The following officials and organizations support establishing Tesla Park as a non-OHV, low impact recreation historic and natural resource park and preserve:
Public Agencies/Commissions
COUNTY of ALAMEDA – Board of Supervisors, Parks, Recreation & Historical Commission, Agricultural Advisory Committee, Altamont Open Space Committee
CITY of LIVERMORE
ALAMEDA COUNTY RESOURCE CONSERVATION DISTRICT
EAST BAY REGIONAL PARK DISTRICT
LIVERMORE AREA RECREATION AND PARK DISTRICT
Public Officials
EBRPD Board Director, Ward 2, Dee Rosario
EBRPD Board Director, Ward 5, Ayn Wieskamp
EBRPD Board Director, Ward 3, Dennis Waespi
EBRPD Board Director, Ward 6, Beverly Lane
Former EBRPD Board Vice President, Ward 4, Doug Siden
Former Senator Loni Hancock
Former Assembly Member Joan Buchanan
Congressman Mark DeSalunier
LARPD Board Member David Furst
LARPD Board Member Jan Palajac
LARPD Board Member Beth Wilson
Livermore City Council Member Bob Carling
Livermore City Council Member Bob Coomber
Livermore City Council Member Trish Munro
Livermore City Council Member Bob Woerner
Livermore Planning Commissioner Steven Spedowfski
Pleasanton City Council Vice Mayor Karla Brown
Former Pleasanton City Council Member Cheryl Cook-Kallio
Former Livermore Mayor Cathie Brown
Former Livermore Mayor John Shirley
Former Livermore City Council Member Doug Horner
Former Livermore City Council Member Laureen Turner
Former Dublin City Council Member Abe Gupta
Former Dublin Mayor Tim Sbranti

Community Organizations

Castro Valley Huddle/Environment Now! Committee
Confederated Villages of Lisjan/Indian People Organizing for Change
Nototomne Cultural Preservation/Northern Valley Yokuts Tribe
Livermore Hill Hikers
San Joaquin Audubon Society
Tesla Road Residents Alliance
The Nature Conservancy
Tri-Valley Conservancy
Please email us at friendsofteslapark@gmail.com if you would like to add your name or that of your organization to the growing list of those that want to SAVE Tesla Park.