On August 19, 2015 there was a wildfire that burned over much of the Tesla park land from near Livermore to Carnegie SVRA.  We are thankful there were no injuries or major property loss.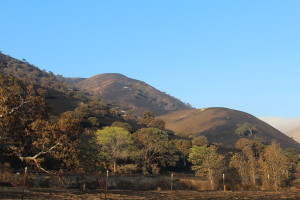 While the immediate impact of a fire on the natural landscape is shocking, we now understand that wildfires are part of natural ecological processes that have helped shape Tesla into such a biologically rich wild land.  Tesla will regenerate and flourish again.  In fact some vegetation and rare plants benefit from fire, so it may come back with even more abundance.  The fire also provides an opportunity to study its impacts on rare plants and sensitive habitats. Tesla's biological diversity is the perfect classroom for such research.
It would be reckless to try to use the fire as justification to open Tesla to OHV use or facilitate the plan to open Tesla to OHV use. In fact Tesla needs our protection all the more during this fragile period of regrowth.
Tesla exists beyond the moment, and its life cycle provides part of the unique wonder that we must permanently preserve for future generations.  Nothing has changed – now there are just more reasons why we need to Save Tesla Park.