If Tesla Park can be placed in its proper context, the opportunity for our region and State is even greater. Tesla Park and Carnegie SVRA are located within the Corral Hollow Canyon with Tesla/Corral Hollow Road running its length. Over the last 40 years, the focus within the canyon has dramatically shifted toward resource preservation because studies have identified critical wildlife corridors and habitats for numerous threatened, endangered and protected species. Several public and private conservation easements have been placed on land in and around the canyon area, solidifying its preservation focus. State Park's Carnegie SVRA is the main outlier in terms of continued environmental damage and the lack of permanent mitigation set-asides.
Preserving Tesla Park as part of this critical biological zone creates an opportunity for the State Parks to meet its preservation and recreation objectives. Tesla Park can be the needed western anchor of a geographic preservation and recreation bridge between the Tri-Valley region of Alameda County and San Joaquin County in the Central Valley. Tesla Park would permanently protect sensitive resources and provide accessible non-motorized low impact uses to the larger outdoor recreation user population of the Bay Area and Central Valley. Carnegie SVRA, operated in full compliance with the law, could continue to serve the smaller subset of outdoor recreationists who are OHV recreation users. Cooperative planning between Alameda and San Joaquin counties and the State could establish a recreation and preservation corridor and designate the entire length of Corral Hollow/Tesla Road through Corral Hollow Canyon as a historic roadway. Because property on one or both sides of the road is now owned by a state, federal or regional agency, hiking, biking and equestrian trails between the East Bay and the Central Valley could potentially be developed along the roadway without impacting sensitive resources.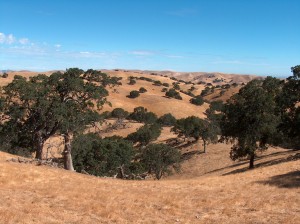 This is the win-win. This vision for Tesla Park and the area based on natural and cultural resource protection and cooperative comprehensive recreation planning is the direction our public agencies should pursue. With Tesla Park as the western keystone, there is a unique opportunity to preserve irreplaceable natural and cultural resources and provide appropriate resource sensitive recreation opportunities for the larger public.
Tesla presents a great opportunity for our communities and region. We must first protect and preserve the Tesla Park land; then we can begin the process to establish the appropriate use and management plan that ensures this unique and special native landscape is protected for all Californians today and in the future.
See the EBRPD 2013 Master Plan map below:
Join us to help SAVE TESLA PARK.
Return to main Tesla Park page.