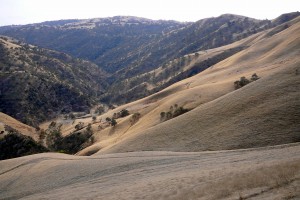 The head of Corral Hollow at Tesla supports the northwesternmost extension of an amazingly rich association of southern California/San Joaquin Valley herpetofauna (reptiles and amphibians) that has drawn researchers and classes from the University of California and other universities for many decades.  It is probably the only place in Alameda County where one can encounter Glossy snakes and San Joaquin Coachwhips.  Glossies have been observed recently at Tesla, public health and coachwhips a little downstream.  The coachwhip is a California species of special concern.  A little farther down the canyon, buy cialis university researchers have long observed black-headed snakes and the gorgeous red and black long-nosed snake, story both San Joaquin Valley taxa very rarely observed in or near the Bay Area.  When the first EIR was done (2000) for expansion of Carnegie into Tesla, the consultants ignored all of these snake species, a mistake that amounts to biological folly, for those knowledgeable about central California zoology understand that Corral Hollow is immensely valuable as habitat for these taxa in particular and as a study and training site for researchers and students.  The consultants did recognize that spadefoot toads live at Tesla.  Again, this is a lone occurrence for Alameda County of a more southerly/interior element.  They also found Alameda whipsnakes, red-legged frogs, yellow-legged frogs, tiger salamanders, and Pacific pond turtles. Horned lizards have been observed recently at Tesla as well.  The consultants conducted their surveys for the EIR only very briefly.  With the high potential for many other rare species, for example San Joaquin kit fox , it is absolutely critical that a more serious program of assessment at Tesla take place.  This would need to involve night surveys, through at least one but preferably more than one entire warm season, and not just in a year of severe drought like 2012.
Tesla also requires a much more serious botanical assessment than the one-year study carried out by consultants for the first EIR.  Many plant taxa of such arid regions on the fringe of the San Joaquin Valley only appear in excellent rain years, and their visibility may be dependent on the vagaries of competition with more aggressive taxa.  To their credit, the consultants did record a remarkable diversity of native plants, including four species of larkspur, which is surprising for an area this size. One, the southern species Delphinium parryi, if confirmed, may have its northernmost station at Tesla.  They also found the dwarf poppy Meconella californica, and the purple onion Allium peninsulare, both vanishingly rare in or near the Bay Area, and Senecio aphanactis, which is endangered. The population of the sunflower Eriophyllum jepsonii-lanatum at Tesla needs to be reassessed. If jepsonii is involved,  this adds another rare taxon.  Near the summit of Tesla Road there is a large colony of the rare lily, Fritillaria agrestis, and, with it, the dwarf flax Hesperolinon californicum, which is extremely rare in the Bay Area, and an unusual, anomalous population of Festuca idahoensis (a.k.a. roemeri klamathensis) that is currently being studied.  Telsa also supports interesting plant formations or association that need further study.  For example, there is a very strange and unusual large thicket of chokecherry Prunus virginiana var. demissa high on the ridge above Harrisville.  Facing north above Tesla townsite and in Mitchell Ravine there are huge thickets of desert olive Forestiera pubescens.  This is not a rare taxon, but it is here near the north end of its range, and colonies this large and dense in this area are anomalous and interesting.  On the Tesla Formation at the mines, gray pine Pinus sabiniana grows below the local dominant blue-oak/buckeye association. Its azonal occurrence is allowed by the nutrient-poor conditions of the quartzose Tesla sands.  With the pines are blue oaks that have dark green leaves rather than the typical blue.  This form occurs elsewhere as well, but it is unusual, and its association with the pines is interesting and worthy of study.
The biology of Tesla has been very inadequately studied, considering the great importance of its geographic position, geologic context, known rare taxa, and contiguity to ranges of many more rare taxa.  A multi-year biological assessment, involving at least one excellent rain year and including night studies, is required before the full potential of Tesla can be understood. Even so, we already know the valley is biologically extremely rich.
Editor's Note – ? The state OHMVR Division has made 2 prior attempts to gain environmental approval to expand Carnegie SVRA into the Tesla Park land, both of which were abanadoned.   In May 2012, the State OHMVR Division and Carnegie SVRA launched a 3rd attempt to gain EIR approval to open Tesla Park to OHV use.
The following organizations support establishing Tesla Park as a non-motorized low impact historic and natural resource park and preserve:
Alameda Creek Alliance
California Oaks (formerly California Oak Foundation)
California Sports Fishing Association – CSFA
Center for Biological Diversity
East Bay Chapter of California Native Plant Society – EBCNPS
Friends of Livermore
Friends of the Vineyards
Livermore Heritage Guild
Livermore Hill Hikers
Ohlone Audubon Society
Public Employees for Environmental Responsibility – PEER
Sierra Club
Please email us at friendsofteslapark@gmail.com� if you would like to add your name or that of your organization to the growing list of� those that� want to SAVE Tesla Park.

The Independent newspaper serving the Tri-Valley region, gynecologist
 in a May 17, mind 2012 editorial, strongly stated its support for establishing Tesla Park as a Non-OHV, low impact historic and natural resource park and nature preserve, calling Tesla Park a "State Treasure".  We could not agree more.
Join us to today to help save Tesla Park.