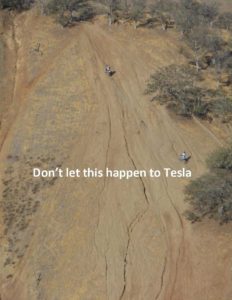 The Off-Highway Motor Vehicle Recreation (OHMVR) Commission just noticed the final public hearing on the Carnegie State Vehicular Recreation Area (SVRA) and Tesla expansion General Plan and Environmental Impact Report (EIR) for October 21, site
2016 in Sacramento. The agenda states that the OHMVR Division plans to approve and certify the Final General Plan and EIR which will open Tesla to OHV use.
OHMVR Commission
CSVRA/Tesla Public Hearing
Friday, October 21, 2016, 10:00 a.m.
Sacramento City Hall
915 I Street, Sacramento CA 95814
Put October 21, 2016 at 10:00 a.m. in Sacramento on your calendars and plan to attend the hearing to speak against the project.
We are reviewing the volumes of the Final General Plan and EIR General Plan. We will provide more information about letters and comments for the hearing soon.
Watch for emails and updates at www.teslpark.org and on www.facebook.com/SaveTeslaPark in the next couple of weeks.