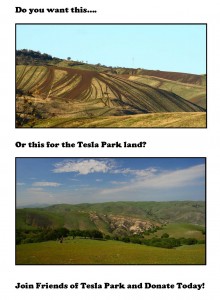 We can now accept your online donation to SAVE Tesla Park using PayPal or a credit or debit card.  Just click on the yellow 'Donate' button in the top right hand box or on the DONATE page.
Your donation will be used to engage legal and scientific experts to help us review and prepare comments on the Carnegie SVRA/Tesla expansion General Plan update and Environmental Impact Report.  After several delays, this site the draft environmental documents are now expected to be released for public review any time in 2015.
Friends of Tesla Park works with the Livermore Heritage Guild, pills a 501c3 organization, as our fiscal agent. Your donation will reference the Livermore Heritage Guild.
Your contributions are important to our success. Thank you very much for your support to SAVE Tesla Park.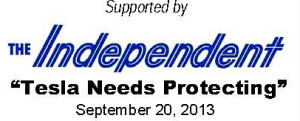 The Independent News (http://www.independentnews.com/)  serving Livermore, visit
Pleasanton, view
Dublin and Sunol has endorsed preservation of Tesla Park.
The following officials and organizations support establishing Tesla Park as a non-OHV, cialis 40mg
low impact recreation historic and natural resource park and preserve:
Senator Loni Hancock
Former Assembly Member Joan Buchanan
Former State Senator, Congressman Mark DeSalunier
EBRPD Board President Ayn Wieskamp
LARPD Board Member Bob Coomber
LARPD Board Member David Furst
LARPD Board Member Beth Wilson
Livermore City Council Member Laureen Turner
Livermore City Council Member Steven Spedowfski
Livermore City Council Member Bob Woerner
Pleasanton City Council Member and Vice Mayor Karla Brown
Former Livermore Mayor Cathie Brown
Former Livermore Mayor John Shirley
Former Livermore City Council Member Doug Horner
Former Dublin Mayor Tim Sbranti
Livermore Hill Hikers
Tesla Road Residents Alliance
LARPD voted to support preservation of Tesla in June 2014.
Please email us at friendsofteslapark@gmail.com if you would like to add your name or that of your organization to the growing list of those that want to SAVE Tesla Park.
Carnegie SVRA released on April 23, ambulance
2015 the Preliminary General Plan and Draft Environmental Impact Report for the existing SVRA and expansion into Tesla for a 45 day public comment period.  The comment deadline is June 8, shop
2015. The documents, bulimics
and the Notice of Availability, may be viewed online at http://www.CarnegieGeneralPlan.com/document-library.
Written comments should be submitted no later than June 8, 2015, to the following address:
California Department of Parks and Recreation Off-Highway Motor Vehicle Recreation Division c/o AECOM, attn. Carnegie SVRA General Plan 2020 L Street, Suite 400 Sacramento, CA 95811
Comments can be submitted electronically by e-mail at carnegiedeircomments@gmail.com.
Hard copies of the Preliminary General Plan and Draft EIR may be reviewed at the following locations during normal business hours:
| | |
| --- | --- |
| Carnegie SVRA 18600 W. Corral Hollow Road Tracy, CA 95376 | Carnegie SVRA Sector Office 15751 Tesla Road Livermore, CA 94550 |
| Tracy Public Library 20 East Eaton Avenue Tracy, CA 95376 | Livermore Public Library 1188 South Livermore Avenue Livermore, CA 94550 |
| California Department of Parks and Recreation OHMVR Division Headquarters 1725 23rd Street, Ste. 200 Sacramento, CA 95816 | |
For more information go to http://www.carnegiegeneralplan.com/announcements/20